A long time has passed since plain slabs of concrete served as the professional flooring material of choice for utility areas such as garages, patio decks, and basements. However, polished, etched, or stained concrete is now a viable option for interior projects as a flooring surface.
Some of the many advantages of concrete as a decorative flooring material may come as a surprise if you're used to thinking of it as a dry surface. when you paint the stone, its appearance is even more appealing. Concrete may be used to create some of the most beautiful and clean vibrant floors you've ever seen, especially when used as faux marble.
Benefits Of Concrete Floors
The fact that streets and roads are constructed with concrete speaks to its incredible strength and hardiness. It is tough and long-lasting when you install concrete flooring on roads, patios, and driveways with or without the coatings. Concrete flooring cannot be scratched or dented.
In addition, it can be used as a fashion accessory. Concrete can be transformed into a focal point in your home with the addition of colors and etching techniques. Depending on the finish, it can cost at least $2 per square foot (the lowest) to $30 per square foot (the highest).
Concrete is, of course, heavy. The weight won't be an issue if you're installing new concrete flooring on grade. Structural engineers are needed if you plan to install concrete over flooring supported by joists. There may be a solution in lightweight concrete. Concrete is the best for your home improvement.
Beautiful design options
Low-maintenance
Heated floors
Eco-friendly
Ready to take the leap and get an upgrade to your concrete Floor? Contact our knowledgeable team today!
Style Trends Using Acid Staining
Preliminary testing is vital before committing fully to a full-scale project, whether you want to imitate the natural color of marble or match concrete with your existing home decor. In order to achieve the effect and pattern of real marble, a concrete acid stain must be applied to a consistent surface and left for hours.
Concrete staining products come in a wide variety of colors and textures. In addition to acid stains and the earth tone colors they provide, tints, concrete dyes, and acrylic stains (water-based and solvent-based) are also commonly used to achieve a wider color range and variety, as well as better control over detail.
There are many misconceptions about acid-staining, and while it can be DIY-friendly, it requires a great deal of skill and experience to avoid mistakes that can quickly and permanently ruin an acid-stained concrete flooring project and achieve the natural stone effects that make people believe they're seeing something they're not.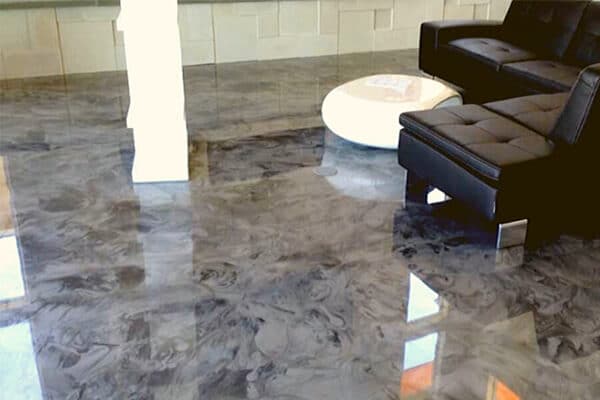 Industries That Use Acid Stain On Their Concrete Floor
Below are some of the industries that frequently use acid stains on their concrete flooring:
airports
hotels
hospitals
restaurants
Ready To Change Your Flooring?
Are you ready for your general home improvement? If you have an existing slab foundation and a home-style that complements the polished shimmer of honed concrete, a concrete floor is a viable option. Concrete flooring are popular because of their low price and lengthy lifespan; you may never have to buy another floor again. However, you should be prepared to walk on a cold, hard surface.
Share This Post