Durability is a necessity when it comes to commercial or industrial flooring that has high-traffic by foot or machines. Coating applications in airport terminals, schools, hospitals, restaurants, manufacturing facilities, universities, marinas, or any other comparable area are extremely important.
The flooring application applied in a commercial setting not only costs a lot of money to the business because of the investment in the floor but also because of the renovation and downtime. That means it has to be right.
The difference between a regular epoxy garage floor and an industrial floor is the cementitious urethane makeup and chemical mixing process. There are relatively more visitors at a Church, School, Hospital, or an Airport than at home, and that is why the floor absolutely must be long-lasting and strong enough to withstand anything
We go into all of the different options for industrial flooring below:
The difference between a regular epoxy garage floor and an industrial floor is the cementitious urethane makeup and chemical mixing process. There are relatively more visitors at a Church, School, Hospital, or an Airport than at home, and that is why the floor absolutely must be long-lasting and strong enough to withstand anything
We go into all of the different options for industrial flooring below:
Epoxy floors:
The epoxy flooring system is one of the best coatings you can apply to a commercial or industrial flooring. It must be mixed correctly and can contain a quartz broadcast or flake broadcast with different types of topcoats, like polyurea or polyaspartic to make sure it can withstand chemicals and anything else thrown at it.
What is so special about the Epoxy flooring system that makes it to the top of the list?
First of all, it is highly resistant to dust, dirt, and liquids, which makes it the perfect choice for crowded areas, especially Public spots like Hospitals.
Secondly, it can withstand many people for a more protracted amount of time (if installed correctly). The toughness of the Epoxy flooring system has got no parallel.
Thirdly, it's tough not to miss the stunning glossy look of the Epoxy. The shine is mesmerizing!
The key to ensuring its effectiveness lies within the installation. Installation with care before the Epoxy coating is necessary. The cleaning of concrete, as well as the application of Urethane to the cracks, is a vital process before the final coating.
To maintain the beauty and strength of Epoxy floors, a regular mopping and cleaning system should be applied.
Polished Concrete:
Polishing concrete is another brilliant method to use in densely crowded areas. It can provide you long-term relief from changing the flooring again and again. The application of Polished Concrete in industries and commercial areas has already made an enormous impact.
One of the shining features of the polished concrete is the cost-effectiveness. Just by following some processes, you will get a fantastic, cheap, and durable floor.
The concrete floor polishing is carried out by removing any material, paint, Epoxy, or coating, followed by a grinding process that eradicates the entire residue left on the floor. A material similar to Silicate is applied to make the concrete even tougher.
The final touches are the polishing and coloring that gives the final glow to the concrete flooring. Diamond tooling plays an essential role in making the perfect polished concrete.
It's cheap, hassle-free, safe, and moisture-free. That is why you must give it a try.
Concrete Overlay:
Who knew that your old concrete floor could become brand-new just by doing a few touches to it? Concrete overlay is a new incredible innovation in the flooring industry where you can rejuvenate your concrete floor with just some simple repairing.
So how does the overlay change the look of your floor? There is a procedure in which you can apply a mixture of resins and cement, which will layer over and provide an excellent look.
You can generate many looks according to your choice as the overlay technique can produce epic textures that are aesthetically pleasing to see. Most famous ones are brick, stamped, stones, and wooden overlays.
There are three types of high-traffic concrete overlay flooring options:
Micro-topping

Self-leveling

Multi-functional
Concrete flooring is ideal for high-traffic areas. It is long-lasting, low-cost, and moisture-resistant.
The overlay procedure is critical; that is why only professionals should do it. The coating should be adequately applied thoroughly and generously to make the floor last longer.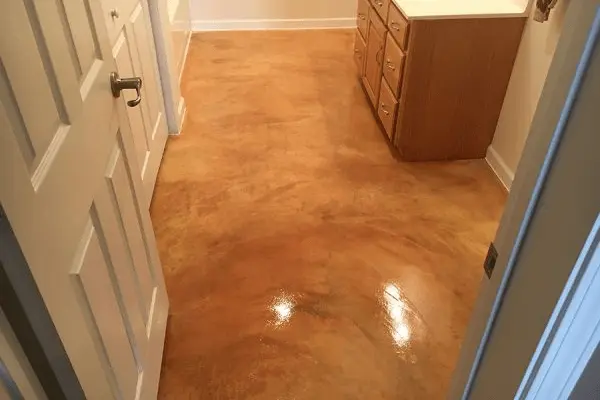 Luxury Vinyl Tile:
The LVT has become the talk-of-the-town over the past few years. Most of the posh areas are seen installing these tiles as the style because luxury vinyl looks very good. However, this floor has some flaws. It can scuff and scratch pretty easily which can be a negative for a large industrial space. This style of floor can be a good option for a business or workspace but not necessarily an industrial space.
One of the best things about LVT is that you can design it the way you want. The countless number of styles, shapes, and sizes is a whole new world in itself.
It is budget-friendly, provides easy installation, and most importantly, it can replicate any floor, making your workplace look costly.
You can find Luxury Vinyl Tiles at shopping centers, hospitals, and universities. They can withstand traffic, and they are easier to maintain. Due to the ease-of-installation, LVT's can be replaced without any difficulty with newer LVTs, so it's a fantastic flooring option.
Rubber flooring:
If you are looking for a sturdy, really tough floor with minimum wear-and-tear and noise resistance, then rubber-flooring might be a good choice for you, mostly, because they are easy to remove. Many people use rubber flooring for a floor that they will eventually have coated with epoxy or a durable urethane. It does not stand up to high traffic or different chemicals extremely well. The ease of installation is what makes it appealing.
The rubber floor tiles are easy to install, most robust, and easy-to-clean. The durability of the rubber tiles is incredible. The noise-proofing makes it more fun, especially at places like gymnasiums, basements, utility shopping areas, and hospitals.
The floor is so smooth that it won't tire your legs at all. The textures and styles of rubber flooring were limited, but now there are more colorful designs in the market, though their price may vary.
These tiles are easier to install and recycle. The only drawback is the rubber odor that comes out of the tiles. It may become unpleasant for some. Also, the floor can become slippery while it is wet, so regular cleaning is required.
Terrazzo:
Over the past centuries, Terrazzo was World-famous for its marble-chips design, vivid-colors, and ever-lasting resistance; that is why it is one of the most popular flooring options. Terrazzo (Terrace in Italian) is a classic combination of historical significance and modern techniques.
The Terrazzo flooring has become a style-statement in most New York where cafes, hallways, and offices are equipped with these stunning tiles. These tiles are easily customized, which has increased their demand over time. Next time you visit the Hollywood walk of Fame; don't forget to notice the beautiful Terrazzo you would be walking on.
It stands out pretty well in terms of durability and cost, but it's recommended that it be used in larger Industrial flooring areas rather than small spaces.
Carpet tiles:
Carpet tiles are easy to install and use. The problem with them is that they require a lot of upkeep, vacuuming and they stain pretty easily. There are some new and unique designs and customizations have made them trendy but the bottom line is that if you install carpet, you will need to replace it in a few years.
These tiles have re-defined the effortless installation procedure. The cutting is simple. If one piece gets damaged, then it's easy to replace it. The newer tiles are more spill-proof, and cleaning them is no hard task. Just a bit of mopping and wiping will make them look fresh as new.
If you want a soft-tile touch in high-traffic areas, then go for carpet floors. Though it's an excellent substitute for the carpet, some might not appreciate the separated or broken look.
Quarry tiles:
Quarry tiles are one of the best industrial flooring options for high traffic areas. It can bear crowd; it can bear spills and chemicals; it can bear anything. These heavy-duty tiles save costs and will go on to last for many years.
The quarry tiles are produced from hard-fired clay just like bricks are made, but they are relatively harder than those. These tiles are water-resistant, and you will mostly find them in big kitchens.
Though these tiles are not as glossy as the ceramic tiles, the durability, cost, and easy installation outshine it.
To ensure that it lasts long, quarry tiles must be installed with the right materials. Mostly epoxy grout or thin-set sealing is applied to the tiles.
If you want the Quarry tiles to last for a more extended period, daily cleaning is a must. Maintaining and replacing the worn-out sections would guarantee a durable floor.
Conclusion:
These are some of the best durable industrial flooring options for high traffic areas. If you have questions about which flooring option will be best for your space, please give us a call or find more information on our home page.
Share This Post