Metallic flooring is one of the latest trends in the home improvement industry. It has become so popular that there are several very good reasons for you to consider getting one of these floors. A metallic epoxy floor has an iridescent, smooth, and glass-like appearance and can contain any color scheme to match your interior design.
Epoxy floor coatings are a great way to hide concrete imperfections, as they can be put to be slip-resistant and come with industrial-strength protection. Increasingly popular, metallic epoxy floors feature one-of-a-kind designs that can last a lifetime when installed correctly by skilled flooring professionals.
Metallic Epoxy Flooring
Metallic epoxy is a type of epoxy coating that contains a metallic component. The metallic additive is a powder that is continuously incorporated into the epoxy coating during the curing process. This movement assures that no two floors are identical, even if they have the same color.
This shiny and long-lasting gloss is made possible by incorporating metallic pigments into epoxy systems. Most people use a two-part system composed of epoxy resin and hardening agents. On the other hand, metalized pigments are applied during the mixing or application process to achieve diverse effects in the coating.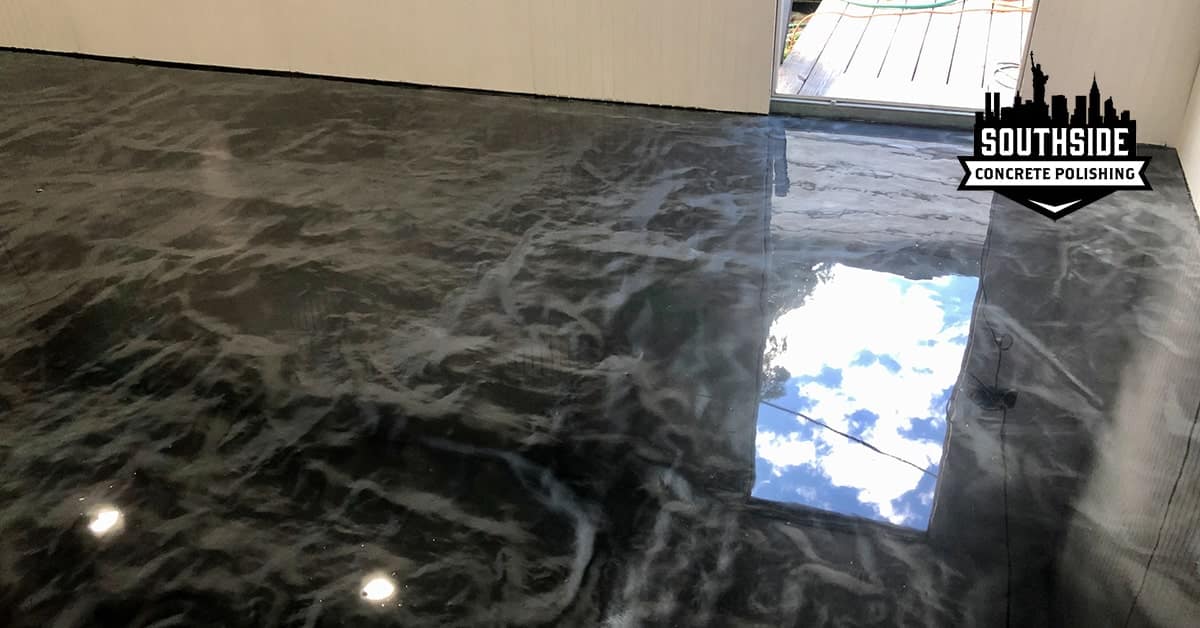 What Does Metallic Epoxy Look Like?
Metallic epoxy flooring can resemble tinted glass or natural stone-like slate. Other techniques can yield stunning moon-crater textures. Perhaps the simplest way to describe metallic floor coverings is to state that they have a distinct aesthetic that is unique to them. You can transform a dull concrete floor into a stunning one that makes people gasp.
Color
Metallic epoxy comes in different colors; You can incorporate various metallic accent colors throughout your floor, allowing you unlimited possibilities for creativity and uniqueness. You can even use your brand on the flooring system for extra pizazz.
Metallic amount
A metallic epoxy floor coating is essentially a low-yellowing epoxy with a metallic pigment. Epoxy resin is blended with small, almost glitter-like colors and then poured on the floor or substrate to cure. It is the movement of the metallic pigments that causes them to change shape and reflect light in various ways. Epoxy hardens, and metallic pigments are anchored in place for a three-dimensional, swirly effect.
Effects
Metallic epoxy is an excellent choice for settings like auto showrooms, hotel lobbies, hair salons, and retail floors because of its robustness and metallic appearance. The reflective quality creates a light and airy atmosphere when combined with the industrial-strength concrete coatings. High-end, custom-finished basements are popular applications for metallic epoxy flooring. The main bathroom's ocean mist blue color scheme would be stunning next to a beautiful metallic rose or brownstone color scheme.
Common Uses
Metallic epoxy floor coatings can be used in both residential and commercial settings. Basement epoxy is often given a makeover with this stunning finish. The uniqueness of a metallic epoxy basement floor is enhanced by its ability to keep moisture out while also bringing light and depth to a room that would otherwise be dark and cold.
Metallic Epoxy Pros and Cons
Highlighted below are the pros and cons of metallic epoxy:
Pros
Accentuate Your Showroom
Metallic epoxy is most commonly used in retail settings and other areas where you want to make a strong visual statement about a room and its contents. Additionally, it adds to the general atmosphere without detracting from the things shown.
A Seamless Hygienic Surface
Like all epoxy coatings, metallic epoxy can be put in a single continuous coat on floors with unusual layouts or topography. It can also be applied over existing flooring. In addition, since there are no seams, it is extremely easy to clean and does not harbor any microbiological life readily. The product could be utilized in commercial kitchens and other comparable environments where hygiene is necessary.
A Non-Slip Surface
Metallic epoxy has anti-skid and is slip-resistant. It is highly reflective and can appear slippery, yet it is not slippery. Epoxy is a fantastic choice if you're looking for a non-slip flooring solution. When dealing with slippery surfaces, it is also feasible to use topcoats that are even more non-slip than the base coats themselves.
Long-Lasting
Solid epoxy is incredibly durable, and it is possible to engineer it even more so that it lasts for an extended period. A metallic epoxy floor that has been correctly laid will last for many years with no upkeep. If falling objects or other similar abrasions have damaged the surface, it is typically possible to repair it for a minimal expense.
Cons
Strong Fumes
During installation and curing, there is a strong odor that will require your business to be closed. Which brings us to…
Long Curing Time
The curing time is on average, 72 hours. A lot will depend on the space we are installing the epoxy. The larger the size, the longer the time it will take to cure. Remember, the curing time is after installation.
Slippery When Wet
Epoxy is a non-porous material so any water or liquid spill will make for a slippery surface.
How Long Does a Metallic Epoxy Floor Last?
In both commercial and residential settings, epoxy floors are a popular flooring material. They are long-lasting and resilient, and they can be tailored to meet any interior design scheme. When properly maintained and tidied up, epoxy flooring can last anywhere from ten to twenty years, but it can last even longer with the required care and upkeep.
Frequently Asked Questions (FAQs)
Below are a few answers to common questions you may have.
When Compared To Other Types Of Flooring, Why Should I Go For Epoxy Flooring?
Metallic epoxy flooring has various advantages over other types of floor coverings. It has a low lifecycle cost due to its long lifespan and toughness. It's simple to maintain and doesn't require polishing or waxing, unlike many commercial systems. Mopping and sweeping are all that is needed to maintain it. Few floor solutions can stand up to the rigors of factories and commercial establishments like this one. It can be used in both public and private commercial settings, thanks to its appealing design options.
Is Metallic Epoxy Waterproof?
Yes! Metallic epoxy has no pores and is completely waterproof. Your surface will be stain-proof thanks to the seamless finish! Stains, mold, and mildew will be a thing of the past.
Share This Post